Baghdad, SANA- The 12th Ghadir International Media Festival, which concluded activities on Wednesday in the Iraqi city of al-Najaf, saw a strong participation by Syria, along with a large group of local, Arab and international media outlets.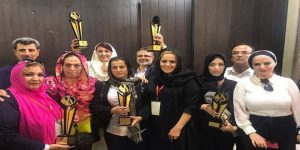 Head of the Syrian delegation to the festival Adam Mohammad told SANA that Syria won seven awards at the festival, and two Syrian artists, Nadine Khouri and Fadi Soubaih, were honored at the event.
Mohammad added that the Syrian participation at the festival was very distinguished as the participants expressed appreciation of the efforts exerted by the Syrian media in light of the circumstances which Syria is going through and the terrorist war against it.
The two-day festival, which kicked off last Monday, witnessed the screening of many works by mass media and production companies.
Many intellectual and cultural symposia were also held on the sidelines of the festival, which discussed the reality of the Arab and Islamic media and the artistic production and their role in fighting the extremist mentality.
R. Jazaeri / Hazem Sabbagh